Residence. Cristina Ferreira and Ana Barata Martins. On the way home
Cristina Ferreira i Ana Barata Martins
The activities of Cristina Ferreira and Ana Barata Martins, an artistic duo from Portugal, is based on exploring processes engaging the foreign community in Bydgoszcz. On the basis of everyday culture and performative practice, the artists will activate the processes of joint creation of the city's cultural scene.

ON THE WAY HOME
Open call for participants in cultural-artistic exchange project
We would like to invite individuals to participate in an artistic project in Municipal Gallery bwa Bydgoszcz / Poland, during October 2018. This opencall is adressed exclusively to people that identify themselves as ethnic or cultural minorities – immigrants, foreigners, exchange students, expatriates, people with a different cultural background, raised in a different language or country, or other. Preference is given to people residing in Poland for at least one year. Language isn't a restriction, so you are welcome even if you don´'t speak Polish nor English. It's not required any previous experience in the art fields.
The program will consist of a set of workshops, dinners and walks that will result in a exhibition at the Municipal Gallery bwa Bydgoszcz / Poland and/or public spaces in the city. Minorities mostly absent from the city's cultural life will be invited to take part in dialogue, exploration and creation through artistic processes.The idea is to create cultural exchange between the participants and giving back to the public by presenting new perspectives on cultural heritage and national identity. The project will be enriching both through the process with the participants and through the resulting works open to the public.
Info and application: : danutamilewska@galeriabwa.bydgoszcz.pl lub telefonicznie: 52/339 30 62
The body you do not know
Cultural differences are often decisive in how we feel in a given country or place. And here is the question: how do we negotiate everyday life in a host-guest context? How to dance or dress or speak or simply appear in public and feel at home? Where is 'home' in conditions of 'foreignness'?
Dr Bassam Aouil, Dr John von Sturmer, Ms Albertina Viegas will join the discussions initiated by Cristina Ferreira and Ana Barata Martins – artists sharing the residence On the way home.
13.11.2018, 6 pm
20 Gdańska St.
30.10.2018, 6 pm – Opening of the exhibition ON THE WAY HOME
The exhibition is open up to November 14th, 2018
Below audioguide to the exhibition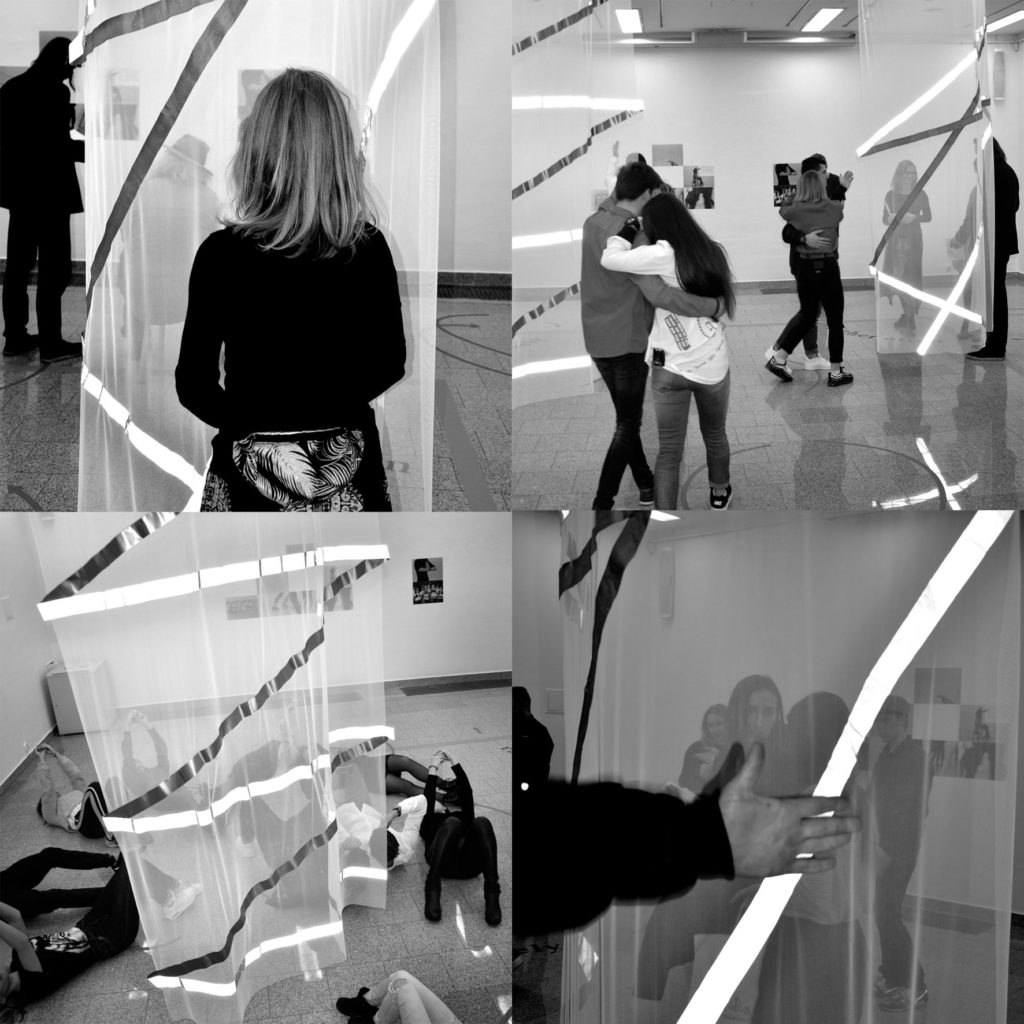 fot. T. Zieliński
Cristina Ferreira (Lisbon, 1990) lives and works in Poznań, Poland. Bachelor in Painting at Faculty of Fine Arts in Lisbon (2008-2012). Master in Fine Arts by the University of Fine Arts of Poznań (2013-2015). Author of sound, installations, video and performance artist. Co-creator of the artistic residence Unsolicited Works for the exchange between Polish and Portuguese artists, supported by Instituto Camoes (2017). Selected exhibitions: LOVE AIDS Riot Sex III (Projek¬traum, Kunstquartier Bethanien, Berlin, 2014); Poznań 's 5th Mediations Biennale (Galeria Raczej, 2016); Sasiedztwo: Granice Bliszkosci, (Scena Robocza, Poznań , 2017); site-specif project Magical Circles (Teatr im. A. Fredry, Gniezno, 2018); performer at Malta Festival 2018 (Poznan).
Ana Barata Martins (Lisbon, 1989) lives and works in Stockholm. She has a bachelor in Multimedia Art of the faculty of Fine Arts – University of Lisbon (2008-2011), and a Master in Fine Arts from Konstfack, Stockholm (2014-2016). She is currently attending the post-graduation Research Lab at KKH, Stockholm. She participated in several exhibitions between each have been selected Panóptico (Plataforma Revolver, Lisboa, 2011), Hungry Eyes (Platform Stockholm, 2015), Transitions Ep. 2: Excavations ( Dada Post, Berlin, 2017). She was a finalist for the prize Novo Banco Revelaçao 2017 by Museu Serralves, Oporto. In 2017 and 2018 she also received grants from Helge Ax:son Johnsons Stiftelse. Currently she is one of the organizers of the artist-in-residency Unsolicited Works aiming to young Polish and Portuguese artists, supported by Instituto Camoes (Warsaw, 2017).
Curator of the residency: Danka Milewska