Eye Never Sleeps – Game
30.06.2019/Sunday
International Noncoincidental Encounters "Eye Never Sleeps" is a festival of visual arts in Bydgoszcz, which this year opens ceremonially at the Municipal Gallery bwa in Bydgoszcz. Together, we prepared presentations of three artists:
– Colette Lumiere's exhibition "Treasures of Africa"
– "Polarotypes" by Marcin Giżycki
– Grzegorz Pleszyński's film "Christopher Columbus. Anti-depressant Opera."
During the vernissage we will be able to see the premiere of Marcin Giżycki"s film "Evening," and listen to Ãtma Quartet's performance.
Ãtma Quartet – a string quartet consisting of graduates of music academies in Poland: Katarzyna Gluza (violin), Paulina Marcisz (violin), Karalina Orsik-Sauter (viola) and Dominika Szczypka (cello). The ensemble conducts intensive concert activity, popularizing chamber music in Poland and abroad, and a special place in its repertoire is occupied by works by Polish composers.
F. Schubert – String Quartet No. 14, D. 810 "Death and the Maiden"
K. Penderecki – String Quartet No. 3 "Pages from an unwritten diary"
After all these attractions, the Czarny Karzeł Foundation invites for the continuation of the Festival to the Palace in Ostromecko. The organizers provide transport to and from the Palace (leaving the Gallery at 8pm, returning at 12am).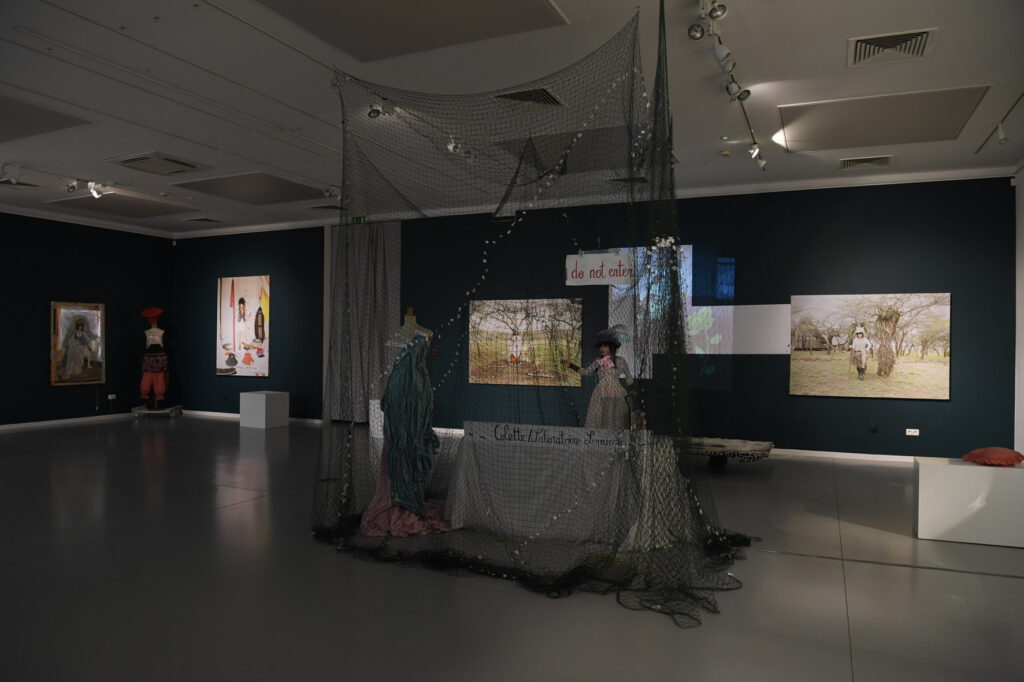 Colette Justine better known as Colette, and since 2001 – as Colette Lumiere – is a pioneering figure in the history of performance and installation art. She is best known for her immersive, dreamlike environments-tableaux vivants, composed of Baroque-inspired ruched fabric, mirrors, photographs, artificial flowers, curios, incandestend lights, paintings, other autobiographical artifacts and, often, the artist herself in various states of repose.
This american multimedia artist also creates in fields photography, street art, film, drawing, painting, collage and sculpture.
Connected with New York, Berlin and Munich.
She took on different characters, often changing her artistic personality with the change of place of life and creation. She made artistic visions in her new roles as Justine, Mata Hari, countess Reichenbach, Olympia and Colette Lumiere.
Her works have been presented in world galleries, among others in: MoMA PS1, New York, Museum of Contemporary Art, MOCA, Los Angeles, Museum of Contemporary Art in Houston, Barcelona Museum of Contemporary Art, Brooklyn Museum, Ludwig Museum, Cologne, FIU-MIAMI, Florida, Guggenheim Museum, New York , Newport Harbor Museum, Los Angeles, Berlinishe Galerie, Berlin, Kunstmuseum Wolfsburg, Germany.
Colette /Laboratoirelumiere
"Lumiere's Adventures in Zulu Land" part II
on site installation /
"Les Tresors de Lafrique II", was inspired by Colette's travel to Zulu Land (invited by Thanda Art Projects in 2016). During her stay in Intibane Resort ZuluLand she along with her peers went on Safari, visited the schools and its children, went shopping, and interacted with the land's amazing inhabitants.
Colette had herself photographed in Nature as well as in her hut with preasures she collected while there… every days items found at the market place.
During her stay she also transformed her hut into a dream environment and shared her vision with the public before her departure…
The first series of work conceived in Zulu Land were exhibited and & auctioned live at the Stockholm Auction House &presented at a Live auction Jan, 2018. All Colette's works Sold! (to benefit the Star for Life Foundation.)
The works in this exhibition have been created in Berlin. They are exhibited for the first time in their entirety in an on site installation in Municipal Gallery bwa in Bydgoszcz.
for more info Colettetheartist.strikingly.com
"Colette is a gauze draped pillar of the New York Art world a make of installaitions, a Painter, and a performance artist.
Anthony Hayden Guest – 2010. the Art Newspaper
"Colette is a pioneering figure in the history of Performance and Installation Art. She is best known for her immersive dreamlike environments: Tableaux vivants, composed of rushed fabric, mirrors, photograhs, artificial flowers, incadescent lights, .paintings and other autobiographical artifact and often the artist herself in various states of repose."
PS1/ Museum of Modern Art NYC. for "There's A mermaid in the Attic" 2016
"Colette's art, like Warhol's is bound with the idea of uninterrupted performance, so that her physical presence itself becomes a kind of signature, a trademark…At the core of Colette's work is a nomadic principle, an openess to any media, materials, or cultural network as a means of circulating images or ideas.."
Johnathan Crary for Arts Magazine. "Colette 's New Paintings" 1983.@Barbara Braathen GalleryNYC
Colette's art, like Warhol's is bound with the idea of uninterrupted performance, so that her physical presence itself becomes a kind of signature, a trademark…
Johnathan Crary for Arts Magazine, Colette's new paintings. 1983
Colette's artistic efforts have birthed a generation of creative minds who are hellbent on breaking art's boundaries- and whether they acknowledge that Colette is the mother of their universe makes no difference because her body of work is often too elusive and ever changing to pay homage to."
Akeem Duncan /Quiet lunch Mag. "Homage to Colette" curated by IFAC. NYC .2014.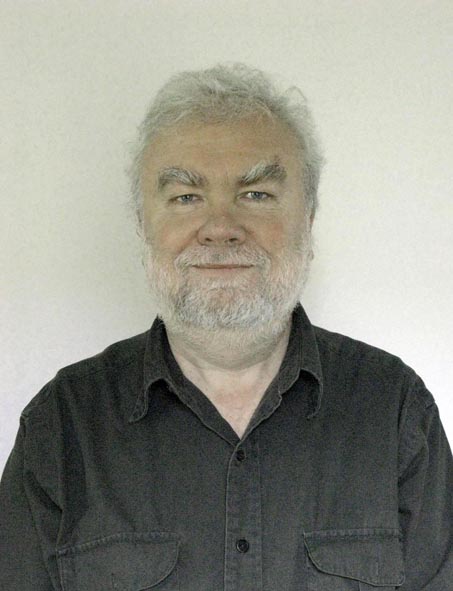 Dr hab. MARCIN GIŻYCKI
Marcin Giżycki – film and art historian, critic, filmmaker, and photographer. Professor at Polish-Japanese Academy of Information Technology in Warsaw, Poland. Senior Lecturer at Rhode Island School of Design in Providence, USA. Artistic Director of "Animator" International Animated Film Festival in Poznan, He has published 8 books and around 400 articles on film and art in Polish and foreign publications. He has also made a number of documentary, live action, experimental, and animated films in Poland and the US, including: "I Am Providence: A Story of H.P. Lovecraft and His City" (1997), "The Island of Jan Lenica" (1998); "Daniel Szczechura's Travels" (2005), "Sicilian Flea" (2008), "Alfred Schreyer from Drohobycz" (2010), "Aquatura" (2010), "Kinefaktura" (2012), "FFF1" (2013), "A Magic-Lantern Life: The Story of The American Magic Lantern Theater" (2014), "Stone Story" (2016), "Monument" (2016), "Theatrum Magicum" (2017), "Sculptor with a Camera" (2018), "Jellyfish" (2018), "Sunset" (2019).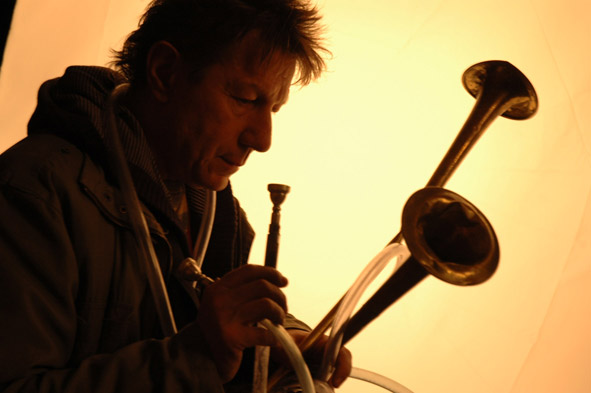 fot. Justyna Jułga
Grzegorz Pleszyński since 1998 he has directed the Bydgoszcz's office of the INTERNATIONAL ARTISTS' MUSEUM. He has taken part in numerous exhibitions. Pleszyński combines sounds with colours and visual forms. The artist says that his dripping paint exists in time like sound, and often his paintings become the scripts for his musical compositions… and vice versa. He creates sounds using two trumpets made of fuel hoses, funnels and mouthpieces. In his music, one can often hear the sounds of wild animals; he is also able to find inspiration in the sounds of the ships anchored in bays, steelworks at night and busy crossroads. The artist often uses pictures and videos in order to produce sound. He has recorded 6 musical albums. He has also directed three opera plays that contained some elements of performance art, and also composed their musical score: CRISTOFORO COLOMBO ANTIDEPRESSANT OPERA, ANDY WARHOL MUSICAL and the PHOEBE HICKS ORATORIO.
Open 30.06.2019, 6 pm
20 Gdańska St.
End 04.08.2019